Tubal Opening Surgery
Tubal opening surgery is performed to repair the tubal damage. Tubal problems are found in the 20-25% infertile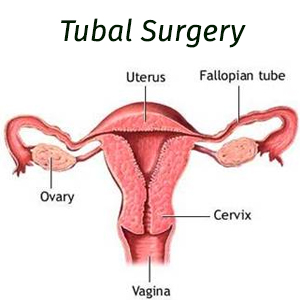 couples. The main aim of the surgery is not just open the fallopian tubes but to achieve the pregnancy and make capable of capturing the eggs transporting it to the uterus.
The surgery treatment of tubal depends on the degree of the tubal damage. Tubal opening surgery can be performed through the laparoscopy or laparotomy. The tubal opening surgery is used to open the fallopian tubes which allow the eggs to pass in the uterus (womb).
Before starting the surgery doctor will ask for the complete medical history (previous pregnancies, termination reports, appendicitis with peritonitisor any other major disease) of the patient. Half of the women who are found to have blocked tubes have no past medical history.
Looking for a free cost estimate for treatment abroad.
If the only one tube is blocked or damage; one tube is sufficient to allow a woman to get pregnant. If tubal opening surgery performed on single blocked or damaged tube this may cause blockage or damage of both fallopian tubes.
There are five types of tubal surgery
Tubal Microsurgery
In this surgery a horizontal or vertical incision cut is used usually a "bikini cut". Tubal microsurgery isexpansive. A general anesthesia is given to the patient in the spinal. In this surgery, a microscope and another surgical instruments are used to view and remove the unnecessary trauma tissues.
Proximal tubal damage
This procedure is used to remove the corneal blockage due to the presence of mucus plugs. This surgery involves the implanting the tubes into the uterus. The success rate of getting pregnant after the surgery increase to 50%.
Salpingostomy
This operation is performed to open the fallopian tubes blockage from the ends. Very fine stitches can be placed so that edges to the open tubes come out. The success rate of the surgery is 30%.
Tubal Reanastomosis
This procedure involves the rejoining of the healthy portion of tubes. The success rate depends on the how many portions of the tubes is damage.
Distal tubes damage
This surgery is performed if the tubes are complete damage; in this surgery doctors creates the new opening for the tubes. This surgery has very less success rate.
Risks of Tubal opening surgery
To operate tubal damage may cause adhesions.
Sometimes surgery may damage the inner layer of the of the uterus and tubes.
The major long-term risk of having tubal surgery is the danger of an ectopic pregnancy.
Save