ICSI
ICSIis the infertility treatment for the male infertility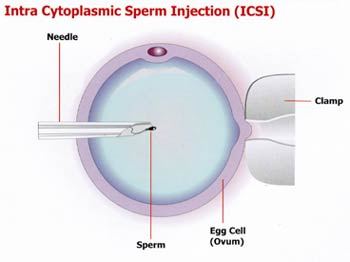 problems and is acronym for Intracytoplasmic Sperm Injection. ICSI is an option for the male who are infertile that is suffering from sperm count abnormality or produces low quality sperm or are problematic aperm with antibodies in semen.ICSI is one of the option for aged female also with thicker egg covering compared to the normal outer coverings and have undergone various IVF treatment that failed for them.
ICSI is one of the most effective method to fertilize the eggs in IVF lab and is widely used for male infertility problems . ICSI is considered to be an option for the patients where the treatments like Intra Uterine Insemination or In Vitro Fertilisation has failed
Couples having infertility problem in male
Couple not in favour for donor sperm injection
Male partner with less than 15-20 million per millimeter sperm concentration
Male partner with low sperm mobility with less than 35%
Suffered failure under other IVF treatment
Couples with lower egg production at stage of egg retrival where ICSI proves a boon to produce increased percentage of fertilized eggs.
The mature egg is to be held with a specialized holding pipette.
A very delicate, sharp and hollow needle is used for immobilization and picking up a single sperm.
This needle is then carefully inserted through the zona (shell of the egg) and in to the center (cytoplasm) of the egg.
The sperm is injected in the cytoplasm and the needle is removed with caution.
The eggs are checked the next morning for assurance of normal fertilization.
High fertilsation rate of about 70-85% of injected eggs getting fertilized
Larger pregnancy rates For IVF with in contrast to IVF without ICSI due to young and highly fertile females
Success rates for IVF wit ICSI is variable for each patient depending on factors like ICSI technique used ,Procedure Operator's skill,Laboratory quality,Eggs quality and the knowledge of the infertility specialist physician in embryo transfer etc.
Sometimes ICSI pregnancy and fertilisatio rates are observed as lower in cases when CISI is done for females with low ovarian reserve situation a condition where females produces less no of eggs or low quality eggs or both

Quality of embryos being the dominant factor in IVF success.
Reason being that egg quality is the dominant factor for determining the embryos quality and viability

In order to increase and maximize the pregnancy chances Assisted Hatching is performed on embryos before transfer takes place.
Get an expert medical opinion.
Save
Summary
Reviewer
Fertility Centre Nepal
Review Date
Reviewed Item
Article
Author Rating